Click here to read Pinetree's Disclosure Criteria
Pinetree's outlook for base metals in general remains positive, driven by the economic growth of China and India which is generating demand for construction materials and therefore base metals. Our top three base metal picks are copper, nickel and zinc. We are investing in junior mining companies exploring for these metals.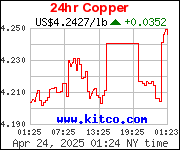 Copper

Recent supply issues such as production outages, strikes, etc. have highlighted how tight the market is for copper and how fragile the supply/demand chain is for this commodity. Disruptions have caused spikes in the price of copper and we continue to see this as a primary driver going forward.

Nickel

Pinetree remains bullish on the nickel exploration companies as the price of nickel is still high relative to historical levels. In late 2006 and early 2007, the price of nickel soared based on demand outstripping supply. With elevated prices, steel manufacturers consumed their stock piles and moved to cheaper alloys such as pig iron to make stainless steel. Pinetree sees nickel returning to the $20 mark as manufacturers begin to replenish their nickel stockpiles for higher grade stainless steel.

Zinc

Major zinc mines were being decommissioned in 2008 and there are no new mines going into production in the same timeframe, creating a long term supply shortage. As the price of zinc rises, investors will initially invest in current producers and then look downstream at the junior exploration and development companies. Pinetree believes the most significant gains can be made by investing in the juniors early on and we are pursuing that strategy.
Sector Themes
Speciality metals are attracting a wider audience, as evidenced by recent LME listings for cobalt and molybdenum.
Rare earth elements are becoming recognized as strategic by governments.
Lithium is garnering major attention as a battery of choice for the next generation of clean vehicles.
Potash demand is supported by population growth and improvement in diet quality.
Base Metals Investments as at December 31, 2014.
Please see our disclosure criteria regarding the investments that are displayed below.
Cost
('000)
Total fair value
('000)
% of total fair value
$23,966
$1,662
-
Issuer
Security Description
Cost
('000)
Fair
Value
('000)